Curiosity and interest in this amazing healing art are always expanding. Below are a few questions about acupuncture, but please contact us if you need any information.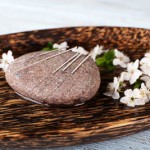 Is Acupuncture safe?
Yes! Licensed Acupuncturists are required to use disposable, one-time-use only needles that are discarded after each use.
Does Acupuncture Hurt?
The most common response that patients give about their treatment is that was "relaxing." The treatments are delivered in a quiet, relaxing environment. Patients can enjoy lying on a comfortable massage table, and can listen to relaxing music during treatments. Massage, Tui-Na, meditative/breathing exercises, postural awareness, body mechanics, and nutritional recommendations are often given during treatment to enhance the healing benefits.
How Many Acupuncture Treatments Will I Need?
The number of treatments varies with each individual. A normal course of treatment can range from ten to twelve visits, most conditions will show marked improvement after just a few treatments. Chronic syndromes may require longer treatment. Your practitioner will evaluate each individual according to the response achieved from the treatment.
Does Insurance Cover Acupuncture?
Our licensed practitioners are participating providers with major health insurance carriers such as Carefirst BC/BS, Cigna, Johns Hopkins Healthcare (EHP), and Aetna. As a courtesy, our office will contact your insurance company for you to verify the acupuncture benefits covered on your plan.
For individuals who do not have health insurance coverage, our office accepts all forms of payment including MC/Visa.